How to Keep Your Suntan in the Fall with Spray Tanning at Endless Summer Waxing and Skin Care Durham NC-Where did the summertime go?! Keep your beautiful sun kissed color with a Spray Tan that is all natural ingredients and customized color for your skin tone.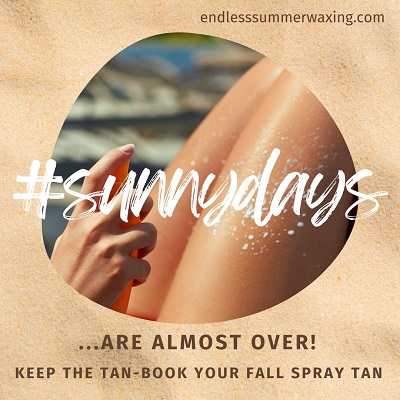 The summer sun has been shining, and you've got a beautiful tan to show for it. But as the days get shorter and the temperatures start to drop, you may be wondering how to keep your tan going into the fall.
One great way to maintain your tan is with spray tanning. Spray tanning is a safe and effective way to get a natural-looking tan that will last for weeks. And unlike self-tanner, spray tans don't require any messy application or streaking.
Here are a few tips for keeping your suntan in the fall with spray tanning::
Get a spray tan a few weeks before the start of fall. This will give your tan time to develop and fade gradually as the weather cools down.
Endless Summer Waxing and Skin Care uses Globody Spray Tan products. We know there are many products out there, but feel strongly this is the highest quality!
Avoid exfoliating your skin too often. Exfoliating can remove the top layer of skin, which can also remove the spray tan.
Moisturize your skin regularly. Moisturizing will help to keep your skin hydrated and your tan looking its best.
Wear sunscreen. Even if you have a spray tan, it's important to wear sunscreen to protect your skin from the sun's harmful rays.
By following these tips, you can keep your suntan looking great all fall long. So go ahead and enjoy the summer sun, knowing that you can maintain your tan with spray tanning in the fall.
So if you're looking for a way to keep your summer suntan in the fall, spray tanning is a great option. It's safe, effective, and affordable. And with a little bit of care, your tan can last for weeks.
Book your Spray Tan today with Jenn (Owner and Esthetician) at Endless Summer Waxing and Skin Care in Durham, NC.