Fall and winter weddings can be absolutely stunning, with the changing leaves, cozy fireplaces, and festive atmosphere. But if you're a bride-to-be, you may be wondering how to keep your skin looking radiant and glowing during the colder months. One great option is to get a spray tan.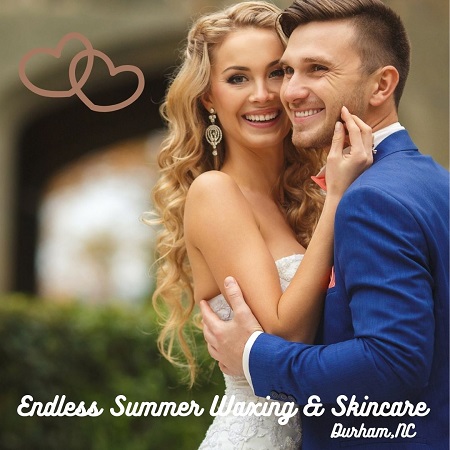 At Endless Summer Waxing & Skin Care in Durham, NC, Owner and Esthetician, Jenn Kahaunaele, offers a beutiful custom color spray tan to compliment your skin tone, with great advice on before and after spray tanning care to optimize the look. Here are a few tips/pointers on Fall/Winter Bridal Spray Tans:
A Spray Tan is going to give you a natural-looking glow. Spray tans have come a long way in recent years, and they can now offer the bride and bridal party a very natural-looking glow. Because really?! Who wants to look over done?
Jenn will make sure the spray tan evens out your skin tone to create a more flawless complexion. This is especially helpful for brides who are wearing strapless or backless dresses.
It hides imperfections. A spray tan can also help to hide minor imperfections on your skin, such as blemishes, scars, and spider veins. This can give you a more confident feeling on your wedding day.
It lasts for days. Spray tans typically last for 5-7 days, so you can be confident that your glow will look its best on your wedding day and for a few days after.
In addition to these general benefits, there are a few specific reasons why a spray tan is a great choice for fall and winter brides:
It can help to combat dry skin. The cold weather can be tough on your skin, leaving it feeling dry and flaky. A spray tan can help to hydrate your skin and give it a healthy glow.
It can make you look more confident in your wedding photos. If you're not usually a fan of being in front of the camera, you'll feel more confident knowing that your skin looks its best.
Considering getting a spray tan with Jenn at Endless Summer Waxing & Skin Care for your wedding day? Be sure to book your appointment well in advance. Scheduling Link is on this website and also through our Google Business Page, Facebook, Threads account and Instagram.
Here are a few tips for getting the best spray tan for your wedding day:
Get a test tan a few weeks before your wedding. This will give you a chance to see how the tan looks on your skin and to make sure you're happy with the color!. Jenn uses only quality Globody products.
Exfoliate your skin before your spray tan. This will help to remove any dead skin cells and ensure that the tan goes on evenly.
Wear loose-fitting clothing to your spray tan appointment. This will help to prevent the tan from rubbing off on your clothes.
Moisturize your skin regularly after your spray tan. This will help to keep your tan looking its best for longer.
Looking forward to seeing you at Endless Summer Waxing and Skin Care, in Durham, NC soon!