Endless Summer Waxing Uses Berodin Wax-Only the best products are used at Endless Summer Waxing in Durham, NC. Berodin Wax is undoubtably the best…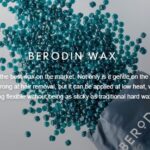 Hard Wax. Soft Touch. Berodin's signature hard wax beads provide quick, efficient results and a less painful waxing experience. Formulated with revolutionary flexible polymers, this stripless wax can be applied in multiple sections without breaking or becoming rigid. Heated at low temperatures to minimize client irritation, Berodin Blue adheres only to the hair and not the skin itself. Safely removing both fine and coarse hair, these wax beads create a smooth finish with minimum skin reactions.
Jennifer Kahaunaele, Owner and Esthetician at Endless Summer Waxing summarizes what it does:
• Flexible formula doesn't require strips
• Adheres firmly to fine and coarse hair without sticking to skin
• Low melting point to minimize irritation
Polymer Technology: Creates a highly flexible hard wax that can be heated at low temperatures to minimize skin irritation.
Beeswax: A natural wax that helps protect the skin and prevents reactions.
Lanolin: An ultra-soothing emollient that can help soften and protect skin.
Glyceryl Hydrogenated Rosinate, Cera Alba (Beewax), Colophonium (Rosin), Ethylene Vinyl Acetate, Lanolin, Triethanolamine, Technical Hydroabietyl Alcohol, C.I.42090 (Fd&C Blue 1)
Durham NC's Endless Summer Waxing uses quality products to ensure your comfort. Book your waxing appointment at Endless Summer Waxing, Durham, NC. by hitting this link! Jennifer Kahaunaele, Owner and Esthetician looks forward to seeing you.