Get the most out of waxing your skin-Hey Durham, NC! Do you love that smooth, new skin feeling right after waxing treatments? Wish it would last until your next visit? Let's keep it real and acknowledge that probably isn't going to happen. But, Jennifer Kahaunaele, the Durham, NC,. Endless Summer Owner and Esthetician offers the following tips on skincare and waxing treatment timing that can enhance and extend all those things you love about waxing!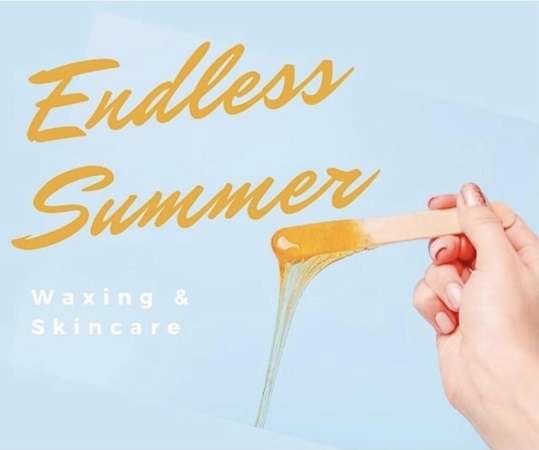 Skin Care Before Waxing #1
At Endless Summer Waxing, Durham, Nc., Jennifer encourages clients to gently (emphasis on gently) to exfoliate their skin a day or two before a waxing appointment. Clients should use a gentle method that will slough off dead skin and clear hair follicles but not irritate the skin. Not sure what to use? Reach out to Jennifer and she can provide some recommendations on exfolliating products such as skin scrubs, cloths and mitts.
Skin Care After Waxing #2
Now that you have this smooth soft skin, Jennifer strongly recommends avoiding the sun for a few days after waxing. Makes sense, right? So, when you are scheduling your waxing appointment before a vacation get in to see Jennifer a few days ahead! Endless Summer Waxing clients are also encouraged to avoid saunas, steam rooms, swimming pools, oceans, and other bodies of water for the first few days after a wax.
Moisturizing (frequently) is key to calming your skin after waxing, However, if your prone to redness and bumps talk to Jennifer about post-waxing products with salicylic acid to prevent and address these issues.
Skin Care Between Waxing #3
At Endless Summer Waxing in Durham, NC., clients receiving waxing treatments are advised to not shave between waxing appointments. Occasionally tweezing a few hairs is fine, but no shaving. Shaving changes the pattern of hair growth and hair texture, which can make the next waxing harder or less effective, while also causing irritation and itchy stubble!
Can't stress enough,,,Continue to gently exfoliate as needed and moisturize daily!
Scheduling Appointments #4
Jennifer's years of experience of offering Waxing services has shown that clients who treat it as a skin care routine see and experience more benefits the longer it's done. Jumping between waxing and shaving is not recommended. The major difference between shaving and waxing is that waxing pulls out hair from the follicles and shaving cuts off hairs in mid-growth, often when they're thickest.
Over time, waxing helps hair grow in a steady cycle and pattern, while weakening the hair because of the impact on the follicles. This causes hair to grow in more slowly and sparsely. Clients who wax regularly tend to have longer times between appointments because the waxing results last longer.
With shaving, hairs quickly grow back in. Because hairs are cut off mid-growth, the hair shaft tends to remain thick as it rapidly grows back. Waxing needs to be done year-round for the greatest impact. If you wax regularly throughout the year, your results with each treament will improve!
Hit this BOOK NOW link and Get The Most Out Of Waxing Your Skin with Jennifer Kahaunaele, Durham, NC,. Endless Summer Owner and Esthetician.