Brow Lamination Durham NC– Eyebrow Lamination is a fantastic technique offered by Licensed Esthetician Jennifer Kahaunaele at Endless Summer Waxing and Skin Care. It makes a huge difference in filling out your eyebrows! Checkout this Endless Summer Waxing and Skincare client who just completed an eyebrow lamination treatment.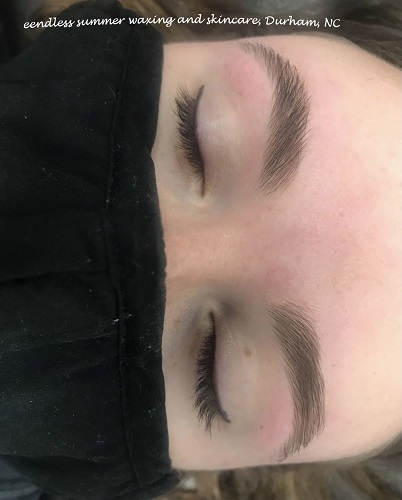 It takes your unruly and thinning brow hair, smoothes it out all while lifting the hair in a more vertical direction!
Think of it as a perm for your brows. It gives them a set uniform shape for an extended period of time. Instead of curls 🙂 the setting lotion Jenn uses helps the hair stay brushed up and lifted upward for about six weeks!
Hit this APPOINMENTS link and book your Brow Lamination with Jenn at Endless Summer Waxing and Skincare in Durham, NC! Add in a brow tint for a beautiful look!